The story of Mek, founder of the Ykeallo Foundation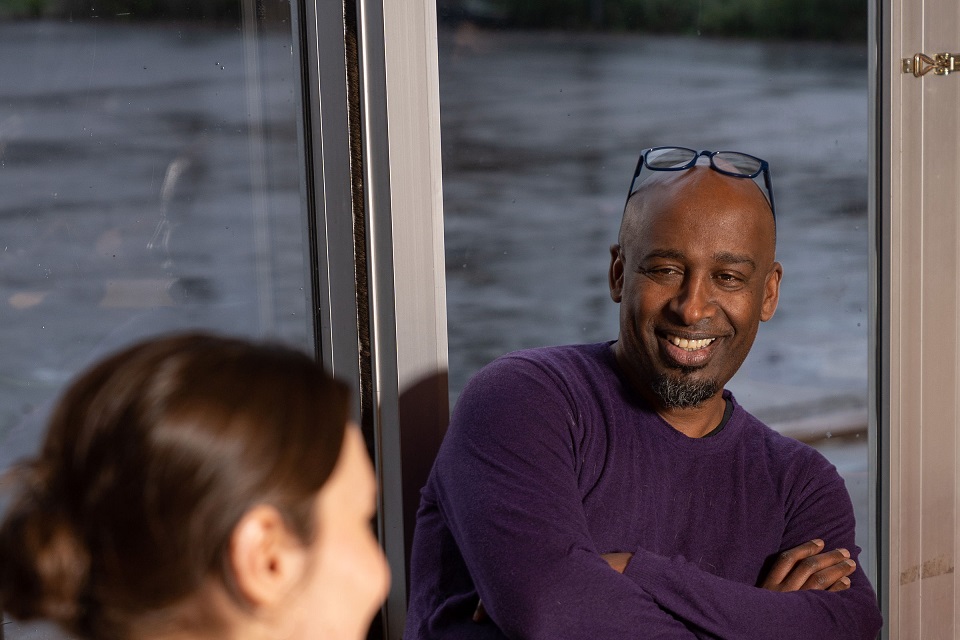 How to thrive on unfamiliar territory
Years ago, when Mek Ykeallo (1966) found himself in an asylum centre in the Dutch town of Laren, only one thing was on his mind: starting his new life. But how do you do such a thing in a place where everything and everyone is strange to you? Big changes are made step by step, the Eritrean Mek experienced. He picked up a hoe volunteering at the local Parks Department. And by doing so, he single-handedly created fertile grounds on which he would be able to thrive.
By Margriet Wesselink
The first step into this new world got Mek co-workers. Marcel, Willem and Marco. Henkie and Cor. Convenient, as they'd show him around and teach him about how things work in Holland. But also empowering: finding affiliation turned out to be an important motivator for Mek to pull through in difficult and confusing times.
Step two was when he went to Marcel's birthday party. Up until today, Mek remembers the tension he felt, standing on Marcel's doorstep. Entering a room full of Dutch people jigging and swapping their heads around, not understanding a word they were saying. How lost you can feel in an alien crowd. But at the same time, how powerful it feels to be involved. How nice it is when people are smiling at you, asking if you'd like a 'bitterbal'(a typical Dutch snack) . It led to step three. And four. And five. And many, many more.
The stepping stone Mek found at that time, is what he wants to give youngsters who face similar challenges now. He founded the Ykeallo Foundation for boys and girls who fled their homes in Eastern-Africa and need to move forward. He helps them doing so by playing a game of soccer with them every Wednesday and Saturday at the Cruyff Court in Amsterdam Osdorp for example. Kicking some ball while having a chat about how they're doing. Going over this complex municipal letter: what does it say exactly?
By motivating them to leave their comfort zone in order to participate. By teaching them not wanting too much right away but taking small steps to achieve their goals. Guiding them to voluntary work, so they can get acquainted with society and society with them. To enable them to start taking steps independently, so that they can find their very own Marcels and Henkies.
Mek Ykeallo (1966) owns a restaurant called Azmarino in Amsterdam. He has a daughter and a son and lives with his sweetheart Annemarie and their two dogs in Amsterdam Osdorp.
Once, I was one of them. I speak their language. Literally and figuratively.  - Mek Ykeallo